President Lyn Bliss of the Ohio Federation of Republican Women
speaking at the June meeting of the DCRW about the structure of the Federation and counteracting fake news.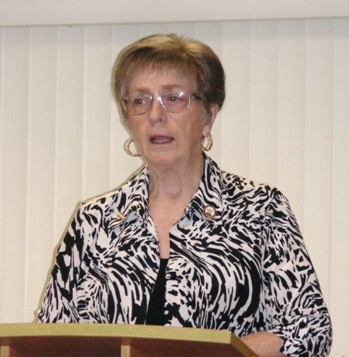 The next dinner/meeting of the DCRW will be
6:30 p.m., Monday, July 10
Chestnut Village/Brethren Home Retirement Community
The Program will be presented by
Rebecca Cotterman, Program Director

Big Brothers Big Sisters
Visitors welcome with a dinner reservation.

If coming for dinner, plese make reservations
before noon on Thursday, July 6
th
by calling Wavelene Denniston at 937-547-6477
or click
HERE
to email
reservation

"SADIE GRACE"
$50 GIFT CERTIFICATE PRESENTED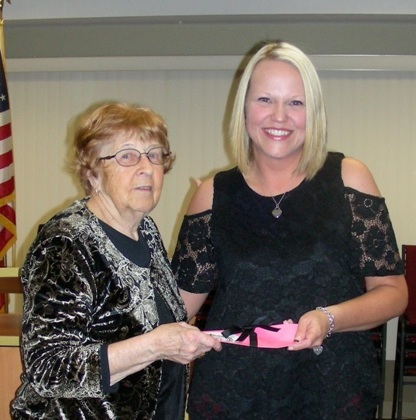 DCRWC member Anna Mae James (L)
is presented $50 gift certificate
by Sadie Grace owner Kirsten Berghoff (R)
A style show by Kirsten and her Sadie Grace models was a part of the May program for the Darke County Republican Women's Club.
There were also geraniums given to six lucky ladies.
As part of the program for the "Women in Business" project was Dr. Kylie Young, owner of Beltone.
The next Regular Business Dinner/Meeting
will be June 12
th
More details will follow regarding that meeting

The Darke County Republican Women's Club
would like to congratulate the

Newly Elected
Ohio Republican Party Officers
All are members of the OFRW



Jane Timken – Chairman


Matt Borges – Chairman Emeritus
Mary Anne Christie – Vice-chair
Marilyn Ashcraft – Secretary
Tracey Winbush – Treasurer
Stephanie Garrett – Assistant Treasurer

Election was held when the
Ohio State Republican Central and Executive Committee
convened on January 6th
At the Nationwide Conference Center in Lewis Center, Ohio



We wish them a productive 2017

!

Darke County Republican Women's Club
The objectives of the women's club are:
Provide political education/legislative information.
Provide a wider knowledge of the principles of the Republican Party.
Increase the number of registered Republicans.
Recruit, promote, and support qualified Republican women for political office.
Give exposure to and work actively for all Republican candidates.
Lend support to the activities of other Republican organizations.
Guest are always welcome to attend Club meetings.

Click
HERE
for photo pages of
DCRWC, OFRW and other events attended by DCRWC members
This page paid for by the Darke County Republican Women's Club, Treasurer Dori Howdieshell, P. O. Box 774, Greenville, OH 45331